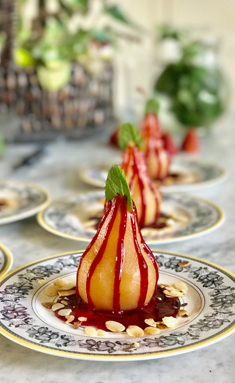 Step into a time when the rhythm of life was slower. When most of the world understood integrity, quality, and craftsmanship. When the idea of having some thing, or someone, for a lifetime, was not an unreasonable dream.
The Inn on Knowles Hill Bed and Breakfast is built on the rock encrusted summit named after June Knowles overlooking the historic Gold Rush town of Sonora, California near Columbia, Jamestown and Twain Harte. Knowles Hill is a natural paradise, resting on two and one-half beautiful acres of land. Our lush gardens, full of native plants, are the perfect place to sit and soak in the scenery. When you're not relaxing in your luxurious room or suite, stroll into Sonora, catch a showing at Sierra Repertory Theatre, dine in historic downtown just two blocks away, see the Giant Sequoia Trees at nearby Calaveras Big Trees State Park, ski Dodge Ridge, ride the steam trains at Railtown 1897 State Park or travel to Yosemite for a day of hiking and breathtaking scenery! Whether you're enjoying a glass of afternoon wine or basking in the secluded beauty of the estate, it's the perfect vacation escape!
Charles Segerstrom was an extremely successful investor in the mines, land, banks and industries of the Gold Country and beyond. And after he had built a financial empire, he built a house, THIS house, for his family. The finest materials and construction techniques available at the time were used.
Integrity, quality and craftsmanship.
A former President was entertained here. A sitting Governor, and soon to be Chief Justice of the U.S. Supreme Court. Senators. Actors. Entertainers. Athletes. Leaders in business. Authors. The Inn on Knowles Hill has been preserved. And you can sense the tenor of history when you walk in. Original hardware and finishes on the floors. Mahogany woodwork. Patina that can't be replicated. You just won't find this at a regular hotel or lodge! Genuine people. Exquisite gourmet food. Elegant surroundings.
The tradition continues...