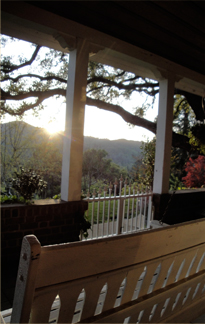 Check in: 3:00 pm until 8:00 pm
Check out: 11:00 am (late check-outs by arrangement with the Innkeeper only)
Reservations: Your reservation is secured at Knowles Hill when payment in full is received. With this burden out of the way in advance, we can focus on more important things, like getting you comfortably settled, when you arrive.
Cancellations: Due to our intimate size, cancellations affect us significantly; so we strictly adhere to our cancellation policies. If a reservation is cancelled 8 or more days in advance, a 10% Cancellation Fee will apply and the balance will be refunded back to your card. If canceled 7 days or less, we cannot make a refund unless we can re-rent the room. We are not responsible for inclement weather and any results of that. Multiple room reservations require a 15-day notification for refund.
Gate Code and Security: Information required for access to Knowles Hill will be delivered with the confirmation of your reservation. Keys, and personal contact information for the Innkeeper will be provided when you arrive. Guests are responsible for the security of their valuables and property. Our keys are special. A $40 charge will be applied to your account for each non-returned key.
Maid Service: Maid service is provided every day except Saturday. Extra towels are available.
Pets: We love animals! We have too many! Regrettably, no visiting pets are allowed on the property. You will be asked to leave and your money will not be refunded. We think you will enjoy Jeannine and Harry, our outdoor Collies, who will greet you when you arrive.
Handicapped Access: Knowles Hill was built over eighty years ago when the handicapped did not get the consideration that they need and deserve. Access to every level, even the main entrance, is by old-fashioned stairs. The house has been carefully preserved in its original state and so handicapped access is not available.
Smoking: Smoking is not allowed anywhere inside Knowles Hill Inn. Cleaning and/or damage costs will be assessed if necessary. Smoking is permitted on the front porch and a receptacle is provided for disposal of debris.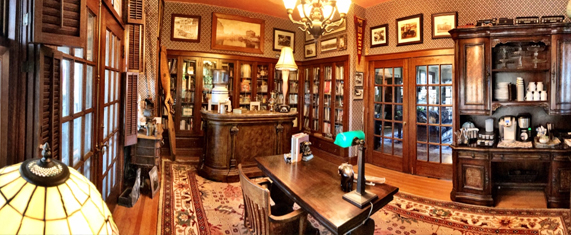 Candles & Open Fires: Candles and incense are not allowed in guest rooms. Open fires are forbidden anywhere on the property.
Sunroom & Living Room: Satellite TV is provided for all of our guests in the sunroom adjacent to the living room. We ask that you keep these public areas clean by throwing away any/all trash in provided receptacles.

Enjoy the show!